Free workshop: Get Found on Google Search and Maps
Help Holiday Shoppers Find Your Business
People in the Lakes Region are looking for what you offer – and they're looking online. 50% of consumers plan to start researching holiday purchases before Thanksgiving. To make sure your business is easy to find in time for the holiday rush, the Moultonborough Library, Center Harbor Community Development Association and the Meredith Chamber of Commerce are teaming up with Google to host a free workshop that will help you get online and on the map.
Workshop Details
Wednesday, October 26'th from 1:00PM to 2:30PM at the Moultonborough Public Library, 4 Holland St. Moultonborough, NH.
Please register by sending an email with your business name, and how many will attend to workshop@aggles360.com We will respond by email to confirm.
Description: This free workshop begins with a live webinar presentation from Google, going over how to claim or edit your free business listing on Google's search engine and map services. Then, local experts will be onhand to answer questions and give hands-on help to polish up your online listing.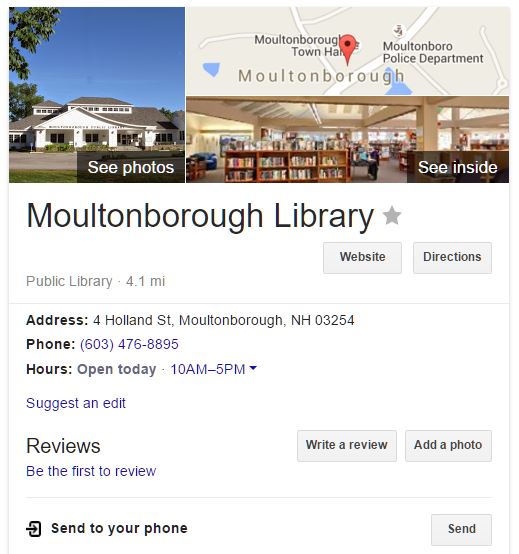 Why update your business information with Google?
It is free - and helps your customers find accurate information about your business - see info boxes on this page. What does your business look like today?
Correct and update information anytime about your hours, map location pin, web site address and telephone number
Add a description of your business
Respond to customer reviews
Add photos that show off the business
Review statistics on picture views, clicks to your web site, requests for directions and click-to-call. Use this information to improve your market reach
Those that advertise with Google see additional audience statistics
What should I bring to the workshop?
Laptop is preferred. Tablets or smartphones acceptable. WIFI provided
Chrome browser strongly recommended, but not required
Google account required to register your business profile (need one? Get it at accounts.google.com/signup)
Can I verify my business at the workshop?
Your business has to be verified before Google will publish the information from your Google My Business dashboard. In addition to the standard post card or telephone methods to verify, we may be able to verify your business at the workshop, using the "Trusted Verification" mobile application. A trusted verifier will be on-hand. To take advantage of this option at the workshop, please bring some proof of your business, such as:
Business license
Utility bill for your store front
Business insurance certificate
Store front property lease
Please pre-register by sending email to workshop@aggles360.com Include your name, contact email, your business name, your position in the business and how many you will be sending to the workshop. We will be in touch with you to confirm and answer any questions. Registering helps us prepare for the workshop and better address the challenges that some businesses experience.
Take Away: You will claim your Google business profile and learn how to control the information your customers see on Google's search and map results. If required, verification of your business will be done at the workshop or later by post card or telephone.
Workshop leader: Bill Gassman, Google Trusted Verifier and Street View Photographer from Moultonborough, NH